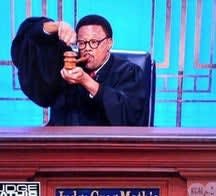 plaintiff: malory from chicago, illinois. it's been a minute since we've had a hometown hero! (speaking of heroes, i did sam sanders' NPR podcast and spent 90% of the time talking about judge mathis and if you need a chuckle you can listen to it here.) malory is wearing an olive green tunic and sleek black cardigan, and her long flat-ironed hair is parted in the center and shimmering under the lights. she, and her accordion of truth™, look very serious.
defendant: tremell from chicago, illinois. tremell is wearing a neon pink/sky blue/electric purple plaid button-down and i know it sounds horrific but it actually looks really fresh? he's got an earring and a fade and a skinny goatee and no accordion of truth™ which is a bold tactic but i respect it.
the complaint: after putting a GPS tracker on her ex's phone, malory found him in a "compromising position" with another woman and is now suing the defendant for property damages and a loan, yowza!
what does she want: $4900
how it went down: malory met tremell in july 2015 and everything was cool until january 2019 when he inexplicably stopped answering her calls and not coming home from work. prior to that he was "wonderful" to malory and her kids, and she has no idea what happened in january to make him start acting funny, but rather than ask him she decided instead to put a gps tracker on his fucking phone (oh my god?????????) so she could see, at the very least, where he was going. maybe i'm just an asshole who refuses to do that iphone "share my location" business with anyone for any reason, but that is fucking egregious!! just break up with him!!!!!!!!
one night malory threw tremell a birthday party and sent him out for liquor and he never came back. malory looked up his location (imagine pulling out an atlas and a compass or whatever for this bullshit) and tracked tremell down, discovering him pulled over on the side of the road with a woman who had her head in his lap. what did she think she was going to find, the two of them kneeling in prayer??????? this is why you can't fucking snoop, because you're never going to find out anything good and why bother getting your feelings hurt when you could just cut him loose and pretend he died? malory says the thing that pissed her off the most was that she's bisexual, and if tremell really wanted to party he could've just brought the woman home for both of them to enjoy.
tremell says he met malory at a party in the park and she was pretty and confident and she walked up to him and said, "hey, i heard you have a little dick." lmao what??? is she a pick up artist?????? tremell, obviously a good sport, responded, "yeah, but did they tell you i know how to use it?" ladies and gentlefriends, I AM AROUSED. the relationship started that night (i bet!) and then a few months later they moved in together. on the night in question tremell says he went on a liquor run and on his way back home he saw a friend from high school walking down the street and he offered her a ride because they were going the same direction. he says he inadvertently dropped his phone between the center console and the seat, and the moment his friend bent down to pick it up malory rolled up on the car and started banging on the window. mmkay. sounds suspicious but also plausible? this is why i'm not a detective!
malory says tremell would often disappear for hours at a time, sometimes coming home at five in the morning. the night she caught him having a high school reunion in his car she told him to come get his shit out of her house because it was over. malory packed up tremell's belongings and he came to pick them up, but instead of just grabbing the bag and bouncing he grabbed a bottle of bleach and poured it all over her furniture and clothes before kicking the faucet off the tub. goddamn, is this dude popeye?? malory threatened to call the police and tremell ran.
tremell's version of this story is pretty much exactly the same except he says that initially malory was blocking him from entering her apartment and she fell when he pushed his way in (as opposed to her assertion that he "knocked her down," but does he think this actually sounds better????) and that yes he poured bleach on everything but it was an "accident" and he shouldn't have to pay. last time i checked, don't you have to pay for accidental damage you've caused? what is the logic behind this?? also, i would love to see an ~accidental~ pouring out of an entire bottle of clorox!
greg asks malory about the loan and tremell cuts her off to say that she didn't loan him money, she just got him an iphone and paid the monthly bill for it and he doesn't owe her shit. please transport me to this alternate universe in which you can just fuck up somebody's crib and run up a phone bill and not pay them because you're mad that they...caught you cheating? i'd love to live there, i could get so many free iphones!!!
the ruling: malory has some printed out text sheets™ in which tremell is threatening her and saying he's not going to pay her back and you know greg isn't having any part of that. he doesn't even hear tremell out. judgment for the plaintiff, and hopefully her new girlfriend!
did uncle greg say anything fucked up to anyone: "you talking about being a player, you don't even know the game!"
*bangs gavel*